---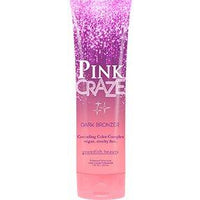 Fragrance: Honied Bergamot, Tea Rose Petal & Amber Musk
Cascading Color Complex | Decadent Delight Blend | Flawless Finish Moisture
Sip, sip hooray! Bad vibes don't go with any outfit, but lucky for you happiness is just one night out away. Fueled by cheap thrills, sparkling wine and pink cocoa, this dark bronzer will have you glowing and gleaming on the dance floor. It's your prerogative to have a little fun and a lot of color. This one's for the girls, so cheers to you and that tan! It's time to get wild and do it in style with Pink Craze™!
 FEATURES
DHA Bronzer
Natural & Cosmetic Bronzers
95% Naturally Derived
No Added Gluten, Hemp or Parabens
Vegan & Cruelty Free
ATO Inhibitor
Fragrance: Midnight Sparkle – Honied Bergamot, Tea Rose Petal, and Amber Musk
 COLOR TECHNOLOGY
Cascading Color Complex: This blend of bronzers will leave your skin cascading with dazzling color. DHA gradually bronzes the skin for color that lasts all night long, while caramel gives way to a sweet, instant natural glow. Beta Carotene provides an extra dose of pigment and helps enhance color development to achieve a seductive, dark tan.
SKINCARE TECHNOLOGY
Decadent Delight Blend: Treat yourself and indulge your skin with a delicious blend of Sparkling Wine and Pink Cocoa! These lavish ingredients work to hydrate and smooth, so skin looks and feels delectable. Enjoy a stress-free night out! Pink Cocoa is known to be mood lifting and help protect skin from environmental aggressors.
Flawless Finish Moisture: A luxurious combination of rich safflower and coconut oils, paired with creamy shea butter provides exquisite skin hydration, for soft and smooth skin. Enriched with moisturizing Glycerin and Vitamin E to quench skins thirst and encourage a radiant complexion.