---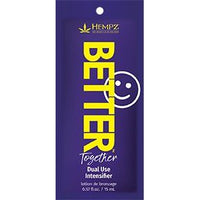 Fragrance:
Beach Party
Dual Use Intensifier
Some things just go better together and probably always will. Hempz Better Together Dual Use Intensifier provides beautiful color plus it's Silicone free and can be used to UV, Spray Tan and Red Light Therapy. Spending time together is easy with 100% Pure Natural hemp Seed Oil for happy, hydrated skin. A delightful blend of Mangosteen, Sage and Ginseng Extract helps the appearance of skins vitality and radiance while
Yarrow Extract helps smooth for a more youthful looking glow. Last but not least, Violet and Plum Extract to help counteract any orange tones and our Tattoo ColorShield Technology. It's a match made in heaven.
Dark tanning Intensifiers including Tyrosine help enhance your tan for darker, longer lasting results.

100% Pure Natural Hemp Seed Oil moisturizes, hydrates and conditions skin leaving it feeling exceptionally soft, smooth and supple.

Mangosteen, Sage and Ginseng Extract help skin appear smoother and more hydrated for a glowing radiant complexion.

Yarrow can help minimize the onset of aging skin.

Tattoo ColorShield Technology combines essential Minerals, Aloe Vera and Algae to help maintain the color and vibrancy of tattoos.

THC Free
Aloe Vera

Vitamins A, C and E

Paraben Free

Skin Nourishing Oil & Extracts

Odor Shield Technology