---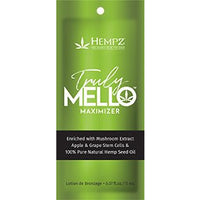 Fragrance:
Warm Berry & Vanilla Sandalwood -
Maximizer
Relax your mind and body and unwind with Hempz Truly Mello
Maximizer. This incredible formula provides natural bronze color while
maintaining healthy skin. The combination of Sage and Nettle plus the
power of Apple and Grape Stem Cells helps promote a younger looking
appearance for a truly exceptional complexion. Your skin will completely
mellow out with 100% Pure Natural Hemp Seed Oil and Mushroom
Extract which helps condition and nourish leaving your tan skin feeling
soft, smooth and supple. Some things are too good to be true but that's
not the case with Hempz Truly Mello Maximizer.
Features & Benefits:
Dark tanning intensifiers including Tyrosine helps enhance your tan for darker, longer lasting results.
Mushroom Extracts help provide maximum hydration.
100% Pure Natural Hemp Seed Oil hydrates, hydrates, nourishes and conditions skin.
Sage and Nettle can help minimize the onset of aging skin.
Meadowfoam Seed Oil helps your skin have a dewy, glowing appearance.
Apple and Grape Stem Cells help protect and fight off the signs of aging while exposing radiant skin.
Additional Selling Points: