---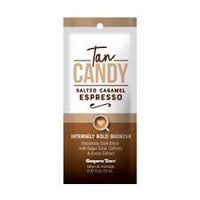 Tan Candy Salted Caramel Espresso is an Intensely Bold Bronzer and highly caffeinated. This deliciously dark blend of Sugar Cane and Cocoa helps take your color from light roast to dark while flavorful hints of nutmeg and coconut extract wake up your senses. It's a great day for waking up with Salted Caramel Espresso on your skin. 
Features & Benefits: 
Dark bronzers combined with DHA help to enhance skins over all color. 

CandyColor Tanning Complex combines natural color enhancers for a rich sweet golden tan. 

Decadent moisturizing blend of Sugar Cane and Sweet Almond Oil helps to lock in color while leaving 

skin feeling silky and soft. 

Antioxidant enriched Cocoa Extract helps skin look smooth and toned for a flawless radiant finish. 
Skin Firming 

Aloe Vera 

Vitamins A, C and E 

Nutmeg Extract 

Paraben Free 

Gluten Free 

Odor Shield Technology