---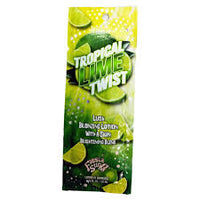 Paradise found with Tropical Lime Twist Lush Bronzing Lotion. Natural Streak Free Bronzers plus a Skin Brightening Blend of Lime and Lemon Extract, Caffeine and a hint of Grapefruit help revitalize and prepare skin for dark color
and a more vibrant complexion. It's Lime O'Clock Somewhere! Your skin won't be able to live without the natural moisturizing benefits of Shea Butter, Monoi de Tahiti and natural Aloe Vera that help provide a boost for a younger,

more radiant looking glow.
Features & Benefits:
• Natural Bronzers helps provide dark streak free color.
• Ultra rich lotion helps provide continuous moisturization.
• Radiant Skin is highlighted by the natural blend of Lemon, Grapefruit and Lime Extract.
• A splash of Sugar and Lime fragrance…so good you won't want to share.

Additional Selling Points:
• Vitamins A, C and E
• Caffeine
• Paraben Free
• Odor Shield Technology

Fragrance: Tropical Lime Twist