---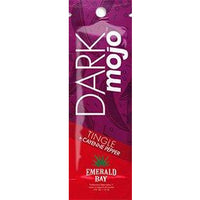 Fragrance: Wicked Strawberry
Tingle with Cayenne Pepper
It's always summer at the bay! Retreat to Emerald Bay® a private ocean cove where only the surf, sand and sun define you. Specially formulated just for you, Emerald Bay® products offer waves of deep bronze perfection as you kick back and enjoy fun in the sun. Real tropical ingredients and a seaside state of mind… now you can own the beach!
FEATURES
DHA, Cosmetic and Natural Bronzers
Low Level Tingle
Moisturizing
Cruelty Free
ATO Inhibitor
Fragrance: Wicked Strawberry – Strawberry, Banana, Kiwi
COLOR TECHNOLOGY
Bronzers: Caramel provides instant, dark color while DHA promotes and develops long-lasting color.
Tropical Heat: A blend of ingredients including Cayenne Pepper and Turmeric delivers Level 7 Hot Action and leaves skin with a dark, scarlet hue.
SKINCARE TECHNOLOGY
Agave Nectar: Rich in proteins, energy, and vitamins that help provide nutrients to the skin for healthier looking skin. Agave Nectar is also packed with sugars and minerals for radiant skin.
Safflower Oil: Contains beneficial nutrients and fatty acids that nourish skin while also helping to diminish the appearance of dry skin.
Coconut Oil: This oil provides natural hydrating properties while also helping to prevent moisture loss for long-lasting color.
ADDITIONAL INFORMATION
Dark Mojo™ with Hot Action 7 is a great option for those who are new to tingles.