---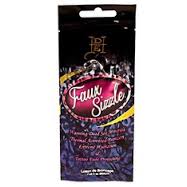 Fragrance: Exotic Plum.    Skin smoldering, dark color starts with Faux Sizzle™. The warming mineral complex works like a sauna on the skin to prepare for the deepest, darkest absorption of color. Thermal activated bronzers will work with the heat of the product to erupt in the deepest penetrating bronzing results for color that lasts up to 5x longer.
Thermal Active Blend – Increases microcirculation in the skin for deeper darker results.
Dead Sea Mineral Complex - Revitalizes skin to restore natural vitality and a youthful appearance.
Quad Tyrosine Blend + MelanoBronze - Stimulates and increases melanin formation to accelerate the tanning process.
Melactiva - Melanin synthesizer for darker, longer lasting results.
Nouritan - Stimulates tyrosine activity and promotes an even and long lasting tan.
BodyFit - Reduces the appearance of cellulite and promotes firmness.
Tattoo & Color-fade Protector - Prolongs the life and radiance of your tattoos and tanning results.
Fragrance: Exotic Plum
Action: Tan Enhancer, Bronzer, Warming
Available Sizes: 13.5 US fl. oz. (400 mL)
.7 US fl. oz. (20 mL)