---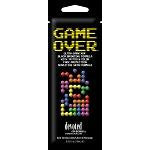 WITH TATTOO & COLOR FADE PROTECTION
SENSITIVE SKIN FORMULA

"Unlock the secret code to super dark results with Devoted Creations' GAME OVER™! This next level formula is loaded with dark bronzers and skin energizers to super charge your tan! You will be sure to crush the competition with tattoo and tan fade protectors to bring your color back to life. You can't win if you don't play - Get your tan in the game, or it's GAME OVER."

FEATURES:
High levels of DHA, Natural, and Cosmetic Bronzers
Gluten Free/Paraben/Nut & Oil Free
Melanin Stimulators
Skin Tightening and Toning
Cotton & Rice Extract
Hypoallergenic: Formulated for ALL Skin types
Aloe & Shea Fragrance


BENEFITS:
Super dark DHA, natural bronzers, and cosmetic bronzers give you the deep, dark and instant results.  
MelanoBronze™ – Stimulates melanin activity to allow for longer lasting, darker tanning results.
Cocoa & Shea Butter – Rich skin softeners.
Caffeine and Green Tea Extracts – Energize, firm and tighten the skin.
Cotton & Rice Extract – Soothe and soften the skin without irritation.
Formulated with sensitive skin tanners in mind.