---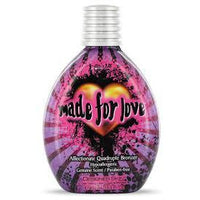 Are you a daydreamer…a hopeless romantic adrift in a sweet place of doodles and secret rendezvous,
patiently waiting for your perfect love affair to begin? Well, my beloved, your color destiny has arrived!
Genuine, classic Designer Skin® love made just for you and your sensitive-skin side. This Hypoallergenic,
quadruple bronzing formula was sent from up above; hold on tight baby cuz this one is Made For
Love™.
In the marketplace there is always love for a product that is hypoallergenic for a sensitive skin lifestyle.
The success of products such as Decleor Harmonie Gentle Soothing Cream, Smashbox Eye Shadow,
and Kinerase Hypoallergenic Cream highlight the fact that not only does the consumer want a product
that is affectionate to the skin, but a product that gives results; and, in essence, it's undying love.

· Offers a 95% Natural and Hypoallergenic product containing 4X bronzing power and a natural
fragrance for clientele with sensitive skin that long for the most instant, dark color
Quadruple Bronzer
· Hypoallergenic
· Fragrance: Natural Fruit Essences
Technology
· Quadruple Bronzer Combines fast acting bronzers to provide you with a
faster, deeper streak-free tan
· 95% Natural and Hypoallergenic Offers clean comfort on sensitive skin
· Aloe Vera Based Maximizes skin soothing hydration