---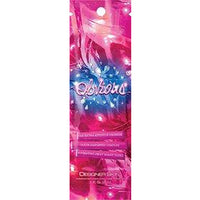 Fragrance: Sparkling Citrus
18X Extra Attitude Bronzer | Color Amplified Complex | Hydrating Jelly Berry Blend
The Hydrating Jelly formula is perfect for tanners who want serious hydration, with a lightweight feel!
 Are you ready for this jelly? Prepare to serve looks and tan up with this 18X Jelly Bronzer for show off color! Give your bronze extra attention with the Color Amplified Complex for full effect color and darker fame game results. Dull, dry skin is cancelled. Let thirsty skin soak up the Jelly Berry Blend for lightweight, lasting hydration that will make them all jelly of your glow. Don't miss out, the secret to perfect, tempting color is Obvious… Duh!
 FEATURES
DHA, Cosmetic and Natural Bronzers
Jelly Cream Texture
High Hydration with Lightweight Feel
ATO Inhibitor
No Added Aloe, Hemp, Gluten, or Soy
Cruelty Free
Fragrance: Sparkling Citrus – Tangerine, Pineapple and Sweet Champagne
Light Brown Lotion Color
COLOR TECHNOLOGY
18X Extra Attitude Bronzer: Immediate bronzing designed to deliver dark and flawless color development.
DHA: Delivers immediate results after tanning that gradually darken over the next 2-4 hours.
Erythrulose: Helps to ensure color development is even and streak-free, while balancing DHA results for uniform, steady color development.
Black Walnut: Known for its dark color, it combines with DHA in a tailored blend to instantly deliver deep hues and build color evenly.
Color Amplified Complex: Designed to add a powerful boost to natural color development with excellent sources of DOPA and Tyrosine. As key components required to produce melanin, this fusion helps to fortify for faster, dark color results.
SKINCARE TECHNOLOGY
Hydrating Jelly Berry Blend: Specially formulated to help provide dehydrated skin immediate relief while nourishing with vitamins and antioxidants for younger looking, radiant skin.
Jelly Blend: Infuses lightweight, lasting hydration to dry skin. Silicone and moisturizing ingredients create a Jelly texture that absorbs quickly to maximize moisture without feeling heavy. The blend allows skin to breathe, while forming a protective layer against toxins and pollutants.
Cloudberry: Rich in Vitamin C and Antioxidants, this Artic super fruit helps to boost radiance. With color adapting qualities that can change the hue in response to skin's natural properties, colors will fluctuate between deep tones to help provide color correction.
Goji Berry: Aids in skin moisturization with Vitamin E and A. Helps to protect against free radicals for younger looking results.