---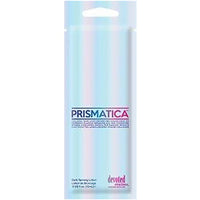 Fragrance:
Bleu Seltzer
Full Spectrum Light Enhancing Color Creator
Prism Plateau Breaking, All Hue Hydrating, 
Intense Tightening & Toning For Radiant Results
Super Fruit Electrolytes – pH Balancers – Vegan Collagen
It's time to glisten and glow with Prismatica™, the newest revolutionary innovation by Devoted Creations! This Chromatic Color Enhancing formula is designed to work with Blue light, Red light and UV light to help you achieve high intensity results! Formulated with pH balancing agents, plateau breakers and an electrolyte cocktail, Prismatica™ will penetrate quickly into the skin so you are able to receive unmatched results from every session. A rapid release blend of Vegan Collagen, Phytic Acid and Probiotics will help transform your skin so you are left with a tighter, more toned and firm youthful appearance. No need to sacrifice when it comes to your color, for radiant results from any light hue, Prismatica™ is the one for you!
Blue Hued Dark Tanning Optimizer

pH Balancing for optimal light absorption

Formulated for use in all light units

Light Activated Photosomes

Powerful Probiotics

24 Hour Long Lasting Hydration blend

Skin Quenching Electrolyte Cocktail

Sugarcane Derived Squalane™

Vegan Collagen Blend

Anti-Orange Technology

Pore Tightening & Antioxidant Rich

Tattoo & Color Fade Protecting

Hypoallergenic & Sensitive Skin Formula

Bleu Seltzer Fragrance
Plateau Breaking Dark Tanning Optimizer – Deeply intensifies tanning results for
superior dark color without the use of added bronzer.
pH Balancing & Formulated for use in all light units - Maximize your session in
red light, blue light or UV light with pH balancing agents that allow for optimal light absorption.
Light Activated Photosomes – Used with any light therapy and helps protect the skins immune system.
Powerful Probiotic Blend - A lab-created, non-living probiotic blend that when applied to skin, provides a potent soothing effect and also strengthens skin's ability to defend itself against environmental stressors.
Cashmere Extracts – Bathe the skin in continuous hydration leaving it silky, soft and smooth.
Phytic Acid – Utilizes gentle exfoliating to help shed off dead skin build up to reduce the signs of aging and provide vital antioxidants and nutrients to the skin.
Skin Quenching Electrolyte Cocktail – Utilizes Magnesium, Coconut Water, Sodium PCA, Orange, Almond and Banana extracts to improve skin's moisture barrier and strength, calm redness, protect against environmental dehydration, and work as a vital component in maintaining hydration levels in the skin.
Sugarcane Derived Squalane™ - Helps to provide weightless hydration, balance excess oil, soothe, and promote a plump, firm appearance.
Vegan Collagen – Helps to strengthen and condition the skin to visibly improve texture and suppleness while also helping to restore skin's natural bounce and resilience, diminishing the look of fine lines and wrinkles.
Blue Tansy™ – Provides anti-orange agents so the skin develops the most natural, dark bronzed result.
Renovage™ – Firms, hydrates and plumps the skin.
SunXtend™ – Helps prevent color fading and prolongs the life of your tan. 
Body Fit™ Technology – Reduces the appearance of cellulite and restores firmness.
FreshTek™ – Proprietary blend of deodorizing and skin freshening ingredients.
Formulated Hypoallergenic, Nut Free, Vitamin E Free, Wheat Free, Vegan Formula