---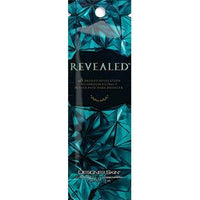 Fragrance:
South of Greece
40X Dark Bronzer | Mushroom Extract | Velvet Touch
Unmask truly undeniable color! 40X Bronze Revelation combines instant and delayed bronzers for deep, dark results. Piperine, derived from Black Pepper, helps to stimulate melanin production to unveil a darker bronze. Decadent Delight blends Sweet Almond Oil, Coconut Oil, and Shea Butter for smooth, silky skin. Bring your glowing complexion to light. Mushroom Extract helps to protect against oxidative damage for beautiful skin. Reveal your deepest bronze and discover your tannest self!
FEATURES
Instant & Delayed Bronzers
Erythrulose
Tyrosinase
Velvet Touch
Almond Oil, Coconut Oil & Shea Butter
Fragrance: South of Greece – Lavender, Marine, Apple, Jasmine, Violet, Bergamot, Amber, Musk, & Cedarwood
COLOR TECHNOLOGY 
40X Bronze Revelation: Reveal dark color with a blend of bronze boosting ingredients that help build a deep tan. DHA combines with Erythrulose for even, delayed color while Piperine works to stimulate melanocyte activity which is responsible for melanin production.
Instant Color: Achieve beautiful color immediately with the help of Caramel.
SKINCARE TECHNOLOGY
Mushroom Extract: Helps to protect skin against oxidative damage from
environmental stressors. This extract also contains Tyrosinase that is crucial
for the development of melanin.
Velvet Touch: Formulated with silicones that leave a velvety smooth feel
on the skin.
Decadent Delight: A mixture of Sweet Almond Oil, and Coconut Oil
combined with Shea Butter to help lock in moisture,
rejuvenate and smooth skin for silky results.
With this eye-catching design and unisex fragrance, Revealed will be
everyone's next favorite dark bronzer!