---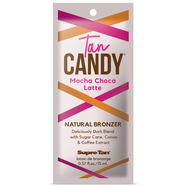 Tan Candy Mocha Choca Latte Natural Bronzer is the perfect pick me up, brewed especially for your tanning needs. This rich and creamy, deliciously dark blend of Sugar Cane, Cocoa and Sweet Almond Oil help your skin feel super soft and sweet. All you need is some chocolate and a great tan to have you smelling and looking scrumptious all day.
Features & Benefits:
• Natural Streak Free bronzers allow skin to further darken after UV exposure for a deeper, longer lasting tan.
• CandyColor™ Tanning Complex combines natural color enhancers for a rich sweet golden tan.
• Decadent moisturizing blend of Sugar Cane and Sweet Almond Oil helps to lock in color while leaving skin feeling silky and soft.
• Antioxidant enriched Cocoa Extract helps skin look smooth and toned for a flawless radiant finish.
Additional Selling Points:
• Skin Firming
• Aloe Vera
• Coffee Extract
• Vitamins A, C and E
• Paraben Free
• Gluten Free
• Odor Shield Technology
Fragrance: Mocha Choca Latte