---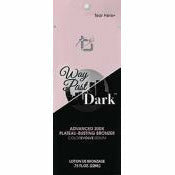 Indulge in your newfound darkness for  as long as you desire.  This 200X bronzer takes your color above and beyond, reaching new heights of beauty previously unobtainable.  A ColorEvolve complex with a kiss of DHA continues to develop the bronze throughout the night, bringing your tan way past dark.  

•200X bronzers shatter your tanning plateau for your darkest color yet.​

• A ColorEvolve system with a touch of DHA continues developing your tan   into even darker, breathtaking color.

• Max silicone emulsion makes skin oh-so-touchable.