---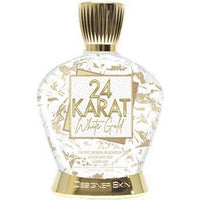 Live the life of luxury you've always wanted! 24 Karat White Gold will take you there. Brighten your complexion and never lose your shine with the help of Glow Up, a combination of Turmeric, Hyaluronic Acid, and Squalane. Obtain ever-lasting beauty with Eucalyptus Water for a younger looking appearance that is sure to impress. Extravagant Ultra-Refined Gold reflects and diffuses light to help blur skin imperfections. Experience high class excellence with 24 Karat White Gold!
24X White Bronzer

Ultra-Refined Gold

Gold Of Pleasure Oil

Squalane & Hyaluronic Acid

Glow Up

Fragrance: Rich Berry – Guava, Boysenberry, Sweet Cherry, Citrus, Acai, Blueberry, Almond, Muguet, & Sandalwood
24X White Bronzing Breakthrough: DHA, Erythrulose, Black Walnut Extract and Annatto Extract combine with several other ingredients to help boost color development and promote melanin synthesis.
La Fleur White Gold: Discover an ancient beauty secret that begins with picking Tiare
Flowers and soaking them in Coconut Oil. This technique produces an oil that gives
excellent hydrating abilities which help to improve skin condition. It also acts as a
tanning accelerator for a deeper tan.
Ultra-Refined Gold: Reflects and diffuses light to help blur skin imperfections.
Golden Hour: Eucalyptus grows above ground rich in Gold and can even
have Gold in their leaves. Eucalyptus Water is known to help boost the
level of Ceramides in the skin which help to improve the skin barrier
for a more youthful-looking appearance.
Gold of Pleasure Oil: Contains high levels of Omega-3 Fatty Acids
and Vitamin E that help to enrich skin for a smooth and radiant look.
Glow Up: Combination of Turmeric, Hyaluronic Acid, and Squalane to
help brighten complexion, increase moisture and skin elasticity, while
decreasing the appearance of fine lines and wrinkles.