---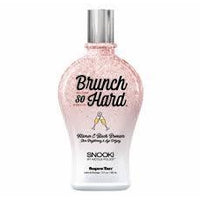 Good friends, good laughs, and even better tans make for a perfect weekend brunch. Snooki's Brunch So Hard Vitamin C Black Bronzer will have your girlfriends wanting to know all your secrets for bronze beautiful skin. A potent Antioxidant
blend combining Coffee Bean, Champagne and Tomato Extract helps keep you looking fresh by brightening your skin tone and rejuvenating any luster you might you have lost. We all want to look and feel great, this is one secret it's okay to share.
Features & Benefits:
• Black Bronzers combined with rich blend of instant and delayed bronzers for immediate color that continues to develop after UV exposure.
• HyperDark™ Tanning Technology combined with a powerful blend of Natural Bronzers helps enhance your tanning session delivering dramatically dark streak free color.
• Antioxidant Blend of Coffee Bean, Champagne and Tomato Extract help to even out skin tone and camouflage imperfections while allowing your flawless radiance to shine through.
• Tattoo ColorShield Technology™ combines essential Minerals, Aloe Vera and Algae to help maintain the color and vibrancy of tattoos.
Additional Selling Points:
• Vitamins A, C and E
• Erythrulose
• Skin Nourishing Oil & Extracts
• Paraben Free
• Gluten Free
• Odor Shield Technology
Fragrance: Pink Sugar