---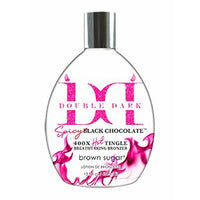 Fragrance:
Browned Butter Rum Cassis
 400X Hot Tingle Breathtaking Bronzer
 Not for the bashful, this brazenly bold bronzer is an invigorating rush to the senses, as it doubles down on deliciously dark color and a hot body tingle that invigorates the senses. It's exactly the exciting experience you crave, and you'll still want to come back for more. 
400X Black Chocolate Bronzers are crafted in small batches for the perfect shade of plateau busting bronze.
Our hottest tingle level yet provides a beautiful escape as it pushes your senses to the limit.
A coconut & avocado butter blend is all pleasure as it softens skin for more color.
Fragrance: Browned Butter Rum Cassis