---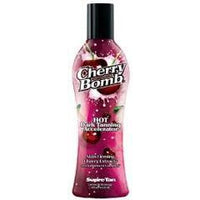 Experience a whole lot of sweet with a little bit of heat! Cherry Bomb™ hot tanning formula is bursting with flavor for the ultimate in dark tanning perfection. Powerful skin stimulators provide you with an explosion of flirtatious color while skin firming Cherry Extracts top it off for the perfect tanning treat you've been longing for..

• ColorBurst Complex™ helps accelerate and amplify the skin's natural melanin production, taking your tan to its deepest level.
• Red-hot skin stimulators bring sweet heat for an instant tingling sensation.
• Cherry Extracts, blended with Vitamins A, C & E help restore skin's natural vitality to appear firmer, smoother and more toned.

Fragrance: Cherry Fever