---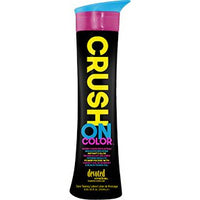 Fragrance:
Blackberry Blast
Super Charged Plateau Breaking Bronzer
Instant Color Technology Delivers INTENSE RESULTS
Power Packed with Carrot Oil, Acai Berry & Black Charcoal
It's time to super charge your session with Crush on Color™! This dynamic dark bronzing blend utilizes plateau breaking coloring agents, black
walnut and caramel extracts for high powered, brilliantly bronzed results! This BOLD formula doesn't just promise powerful and potent results, it
Extreme Dark DHA Bronzing Lotion

Color Correcting CC Cream

Carrot Oil

Antioxidant Rich Acai Berry

Skin Hydrating Ceramides

Blackberry Blast Fragrance
Super High Levels of DHA, Natural and Cosmetic Bronzers – Work to provide dark, long lasting immediate and delayed bronzing results.
Chicory Extract – Provides an instant tanned appearance 60 seconds after application.
Black Charcoal – Skin detoxifiers reduce excess oil and inflammation while aiding in
improving acne prone skin.
CC Cream Blend – Color Correctors that work to even out skin tone and mask
imperfections in the skin.
Ceramide Complex – Essential fatty acids that help to moisturize and strengthen the
Carrot Oil – Contains beta-carotene to rejuvenate cells for a glowing
Acai Berry Extracts – Rich in antioxidants, Acai berry helps to protect the skin from