---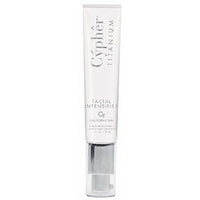 Cýphêr Titanium Facial Intensifier
A true breakthrough in tanning technology that builds dark, while moisturizing and improving overall skin appearance with each use.
FEATURES
Tyrosine
Double Dip & Red Light Approved
Non-Comedogenic
Anti-Aging Skincare
Hypoallergenic
No Added Silicones or Dyes
Fragrance Free
COLOR TECHNOLOGY
Base Tan Builder: Tyrosine and a Melanin Activated Peptide (MAP) work together to help stimulate melanin production for a natural, golden glow.
Double Dip Formulation: Optimized to go from UV to sunless tanning ensuring flawless, even coverage of sunless, while achieving streak-free results.
Vitatan®: Contains an exclusive combination of vitamins, minerals, and antioxidants to accelerator color development. This blend of moisturizes and energizes skin so that it can rapidly build a base tan.
SKINCARE TECHNOLOGY 
Red Light Results: Hydrolyzed Collagen and Peptides assist in collagen and elastin production, especially when used in conjunction with Red Light Treatment, while keeping skin hydrated for longer-lasting results.
Youth Renewal Fusion: is an enhanced blend, including Hyaluronic Acid, that delivers overall skin improvement by reducing the appearance of fine lines and wrinkles, reducing skin flakiness, increasing moisturization, improving skin clarity, assisting in ceramide production, and improving barrier function.
Urea: Attracts and holds water, keeping the skin moisturized and supple.
Niacinamide: Helps greatly improve skin moisturization, skin barrier integrity, and is known to help increase collagen production.
ADDITIONAL INFORMATION 
This multi-use formula can be used in a UV tanning bed, before sunless application, in conjunction with Red Light, and as a daily facial moisturizer.