---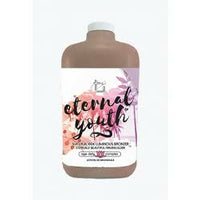 Natural, vibrant, toned, youthful. Perhaps the perfect way to a beautiful tan, Eternal Youth 100X luminous bronzer is a natural bronzer with energy antioxidants and a silk-soft formula for a radiant, reborn feeling.  Our remarkable Mushroom Extracts are the true secret to a natural-looking tan, providing skin with wonderful moisturizing and skin-firming benefits.
• Cordyseps Sinensis Mushroom extract provides wonderful  moisturizing    & skin-firming benefits.
• Energy Antioxidants Complex blesses skin with a reborn feeling
   & radiance.
• Extra levels of skin-firming ingredients tighten & tone.