---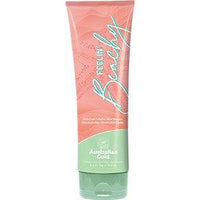 Fragrance: Sweet Summer Delight
Ultra-Dark Paradise Glow Bronzer With Australian Watermelon Cooler
Find your tropical getaway with every session! This Ultra-Dark Paradise Glow Bronzer provides immediate gorgeous results and even darker, delayed color that lasts into your next adventure. Australian Watermelon Cooler gives thirsty skin a decadent dose of hydration giving skin an unbelievable glow. Polished Perfection moisturizes and smooths for a soft tanning canvas, while Vitalize Blend provides antioxidants to the skin for an undeniably first-class complexion. Color that will have everyone around you…Feelin' Beachy!
FEATURES
Low DHA Bronzer
Natural Bronzers
Australian Ingredient
Anti-Aging Skincare
Moisturizing
ATO Inhibitor
Fragrance: Sweet Summer Delight – Kiwi, Strawberry, Tea Rose, Pink Sugar, Peach & Vanilla
COLOR TECHNOLOGY
Ultra-Dark Paradise Glow Bronzer: Caramel delivers immediate color gratification, while DHA with Algae Extract ensures a more enhanced gradual bronze; this unique formulation also nourishes and helps with mineral balance in the skin for healthy, dark color results.
SKINCARE TECHNOLOGY
Australian Watermelon Cooler: Australian native Eucalyptus Infused Water is known to have soothing and calming properties while helping to fight against environmental stressors and provide deodorizing properties; Watermelon Extract helps provide skin with moisture retention and nourishment for improve skin clarity and flawless skin texture while ensuring longer-lasting color.
Polished Perfection: Decadent mixture of Safflower, Sunflower, Sweet Almond Oils with Shea Butter that help to rejuvenate, lock-in moisture and smooth skin for touchably, silky results.
Vitalize Blend: Powerful combination of Vitamins E, B5 and C help neutralize free radicals for a more youthful complexion.
Tea Tree Oil: A pure essential oil, known to have natural odor fighting properties, which help prevent after tan odor from developing.
ADDITIONAL INFORMATION
The low DHA makes this perfect for use outside when layered with one of our SPFs or used as a daily tan extender for continued gradual color development!