---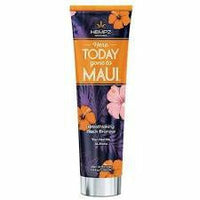 Life is short, buy the shoes, take the trip and get dark golden color with Hempz Here Today, Gone to Maui Breathtaking Black Bronzer. This dark bronzing blend combines cosmetic and flawless DHA bronzers along with 100% Pure
Natural Hemp Seed Oil to provide astonishing skin conditioning and nourishment that helps promote longer lasting results. While on the road to Hana, your skin will be glowing, full of Vitamin C from Papaya and Dragonfruit Extract all
while Ginger helps detoxify and invigorates. You can never have too much of a good thing. Pale today, tan to Maui.

Features & Benefits:
• Cosmetic and Black DHA Bronzers provide instant color that continues to develop after UV exposure.
• 100% Pure Natural Hemp Seed Oil moisturizes, hydrates and conditions skin leaving it feeling exceptionally soft, smooth and supple.
• Papaya and Dragonfruit Extract are high in Vitamins A and C, and help prevent the appearance of aging and dull skin.
• Ginger brings your tan to life and gives your skin an added boost of glowing radiance.
• Paraben Free, THC Free, 100% Vegan
Additional Selling Points:
• Aloe Vera
• Vitamins A, C and E
• Skin Nourishing Oil & Extracts
• Paraben Free
• Odor Shield Technology
Fragrance: Caribbean Shooter