---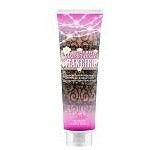 Sweet Tea Dipped White Bronzers With Chickweed & Blueberry Fixins'
For Those With A Southern State Of Mind

Well hello there darlin'! Ya'll ready to get double-dipped dark tan? Then giddy up with a bottle of "Just a Small Tan Girl™!" For color as deep as your roots, look no further then Lil' Bit's™ newest tanning cocktail because honey, after one use you will be hooked! Hand mixed with blueberry and chickweed extracts for sun kissed skin as sweet as a peach. To be blessed with color like this, just jump on the back road. North is a direction, but south is a lifestyle!

FEATURES:
• Transfer-Resistant, DHA Bronzers
• "Country Complex" blended with Chickweed & Blueberry Extracts to restore and repair   troubled skin
• Tattoo & Color Fade protectors
• FreshTek™ deodorizes and eliminates after tan odor
• Country Chic Fragrance

BENEFITS:
• Potent DHA bronzers for optimal, fast acting, transfer-resistant results.
• Advanced Matrixyl Synthe 6™ – Powerful anti-aging peptide that reduces the appearance of fine lines and wrinkles for long lasting results.
• "Country Complex" – Chickweed & Blueberry Extracts paired together to provide skin with a vitamin layer to restore and repair, nourish and soothe troubled skin.
• BB Crème formula will prime, perfect and correct the skin for an overall more even, clear and youthful appearance.
• Body Fit™ Technology – Reduces the appearance of cellulite and restores firmness.
• MelaTime™ – Boost Melanin production for faster, darker results.
• Tattoo & Color Fade Protection – Protects the color and luster of tattoos and tanning results.
• FreshTek™ – Proprietary blend of deodorizing and skin freshening ingredients.
• Blended with multiple accelerators that work to target melanin production and achieve fast, dark tanning results.