---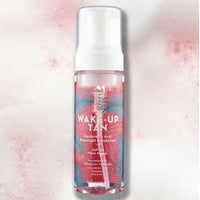 Wake up to all-over hydrated, smooth, and glowing skin. This weightless, easy to apply water mousse will moisturize your skin and have you tan by morning.
Goes on clear with no worry of color transfer on your sheets.
Perfect for all skin tones!
A hydrated, perfect tan while you sleep!
Use this lightweight water mousse before bed for hydration and a tan that lasts up to a week! The mousse is so easy to apply you'll have no worries of streaks or an uneven tan!
Blended with Hyaluronic Acid, this addition to your skincare routine helps to soften and moisturize skin to reduce the appearance of fine lines and wrinkles. Plus, D-Odor 200® eliminates the common self-tanning odor and leaves behind a fresh smelling fragrance.
Gluten Free • Paraben Free • Cruelty Free • 100% Vegan • Non-Comedogenic
• Formulated with Eco-Certified DHA & Erythrulose