---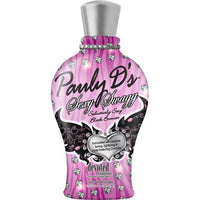 Fragrance:
Exotic Kiss
Its time to shift into the fast lane and upgrade your color with Pauly Ds Swagged Out. This Mega Black bronzing blend will bend all of the tanning rules and give your skin noticeably darker bronze results with the use of high amounts of DHA, Natural & Cosmetic Bronzers. Matrixyl Sythe 6 combined with Revita Fit and Body Fit work to tighten and tone the skin, and fight against the formation of fine lines and wrinkles. Tattoo & color fade protection along with Fresh Tek will prolong the life of your tattoos and tanning results, as well as leave you with no after tan odor. Whether you are getting your tan on for the gym, the beach or the club Swagged Out is all the extra swag youll need!
BENEFITS:
Dark DHA, Natural & Cosmetic Bronzers deliver a deep bronze, delayed and immediate result.
Blue Tansy™ – Flower extract that contains calming and healing properties while using blue hues to counteract orange tones in the skin to provide the most natural color possible.
Tiger Grass™ – Color-correcting ingredient that reduces redness and helps protect skin from environmental stress and blemishes.
White Birch – Restores firmness and soothes troubled skin.
Charcoal Extract – Absorbs excess oil, detoxifies, and reduces inflammation while aiding in improving acne prone skin.
Advanced Matrixyl Synthe 6™ – Powerful anti-aging peptide that reduces the appearance of fine lines and wrinkles for long lasting results.
Body Fit™ – Reduces the appearance of cellulite and restores firmness.
Melatime™ – Stimulates melanin activity for enhanced pigmentation.
Tattoo & Color Fade Protection – Protects the color and luster of tattoos and tanning results.
FreshTek™ – Proprietary blend of deodorizing and skin freshening ingredients.
Blended with multiple accelerators that work to target melanin production and achieve fast, dark tanning results.