---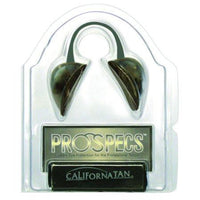 Pro Specs Tanning Goggles one pair 2 in 1 eye wear NEW!
PRO-SPECS TANNING GOGGLES Single Retail $9.99
Possibly the most comfortable tanning goggles ever designed. Professional quality eyewear that will last for years. This eyewear is ergonomically designed to fit your face with adjustable goggles, removable nose piece and elastic strap for a versatile and secure custom fit without the "raccoon effect.