---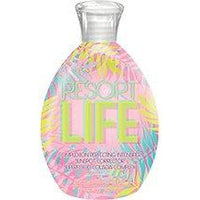 Fragrance: Island Escape
Miami mama, Ibiza babe, Cancun cutie – No matter the destination, you're always away on vacay! Prepare to float your worries away and enjoy even, all-inclusive color with this Complexion Perfecting and Sunspot Correcting Intensifier. Let your skin sip on the Superfood Colada Complex for a flawless, Insta-ready look. It's time to enjoy your poolside retreat and live your best resort life!
FEATURES
Sunspot Corrector
Intensifier
Indoor/Outdoor Tanning Lotion
•ATO Inhibitor
No Added Aloe, DHA, Erythrulose, Gluten, Hemp, or Nuts
Cruelty Free
Fragrance: Island Escape – Pineapple, Fresh Coconut Water, Tropical Melon, and Island Musk
White Lotion Color
COLOR TECHNOLOGY
Intensifier: Helps build natural color while it nourishes and guides color development.
Tyrosine: Helps to stimulate UV melanin production in an even manner for dark color development.
Complexion Perfecting Blend: A blend of amino acids and extracts that work to energize skin to kickstart color for balanced, glowing results.
SKINCARE TECHNOLOGY
Sunspot Corrector: Specially formulated to help ensure an even tan by working to reduce the appearance of sunspots for a balanced complexion.
Tea Tree Oil: Known for its ability to fight topical infections and irritations, it works together with other powerful ingredients to help eliminate the appearance of sunspots.
Ginger: Believed to have been cultivated as a tonic root, it helps to keep skin naturally uninhibited, allowing even, balanced color to develop without interference.
Superfood Colada Complex: A rich source of nourishing supplements and plant derived vitamins for glowing, youthful results.
Avocado: Known for its high levels of omegas, which help skin maintain its flexibility for younger looking skin.
Kiwi Fruit: A vast reservoir of vitamins and minerals, dominant in Vitamin C that works to visibly rejuvenate skin.
Acai: Known for its powerful blend of antioxidants, which aids skin in maintaining a youthful appearance.