---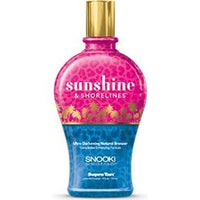 Fragrance:
Cheers Beaches
Make everyday a shore day with Snooki's Sunshine & Shorelines Ultra Darkening Natural Bronzer. The combination of natural bronzers and Peony Extract helps provide superior moisture and hydration while leaving you with a streak free radiant bronze glow. Hibiscus, with its magical reputation for encouraging an all-around fresher, younger, smoother looking complexion plus antioxidant rich Lemongrass - the perfect pair for a stunning natural youth-boost. Looking good and feeling fine, meet me where the sunshine kisses the shoreline.
Natural streak free bronzers allow skin to further darken after UV exposure.
HyperDark™ Tanning Technology combined with a powerful blend of Natural Bronzers helps enhance your tanning session delivering dramatically dark streak free color.
Peony Extract hydrates, nourishes and conditions skin keeping it soft to the touch.
Antioxidant rich Hibiscus and Lemongrass Extract help to smooth and improve skin's overall texture.
Tattoo ColorShield Technology combines essential Minerals, Aloe Vera and Algae to help maintain the color and vibrancy of tattoos.
Vitamins A, C and E

Skin Nourishing Oil & Extracts

Aloe Vera

Paraben Free

Gluten Free 

Vegan Formula

Odor Shield Technology