---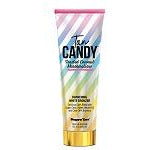 Satisfy your color craving with Tan Candy's Toasted Coconut Marshmallow Darkening White Bronzer. This deliciously dark blend combines the richest tanning ingredients plus DHA for darker, longer lasting color while Sugar Cane and Sweet Almond Oil help your skin feel super soft and sweet. Mixed with hints of Coconut Extract take this ordinary marshmallow treat to an indescribable and unexpected tanning experience.
Features & Benefits:
• Clear DHA and powerful Natural Bronzers for deeper darker color that continues to develop after UV exposure.
• CandyColor™ Tanning Complex combines natural color enhancers for rich sweet golden tan.
• Decadent moisturizing blend of Sugar Cane and Sweet Almond Oil helps to lock in color while leaving skin feeling silky and soft.
• Antioxidant enriched Cocoa Complex helps skin look smooth and toned for flawless radiant finish.
Additional Selling Points:
• Skin Firming
• Aloe Vera
• Vitamins A, C and E
• Paraben Free
• Gluten Free
• Odor Shield Technology
Fragrance: Toasted Coconut Marshmallow