---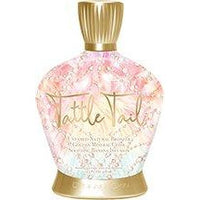 Fragrance: Caramel Creme Brulee
Untamed Natural Bronzer | Golden Mineral Glow | Soothing Banana Infusion
Birds of a feather flock together, but you're unlike any other! Stand out with untamed, gorgeous color from this exotic Natural Bronzer. Dare to be wild and show off an instant illumination with the Golden Mineral Glow and soothing Banana Infusion. Follow your bronze instinct and take a walk on the wild side with this cruelty-free, vegan lotion. Get ready to set your color free and spill your beauty secrets with Tattle Tail!
 FEATURES
Mineral Glow Natural Bronzer
Natural and Cosmetic Bronzers
Vegan Formula
ATO Inhibitor
No Added Aloe, DHA, Erythrulose, Gluten, Hemp, Parabens, Silicone or Soy
Cruelty Free
Fragrance: Caramel Crème Brûlée – Torched Sugar, Citrus, Coconut Milk, and Sandalwood
Golden Lotion Color with Shimmer
COLOR TECHNOLOGY
Natural Bronzer: Promotes natural dark color development with an immediate bronze glow.
Caramel: Provides an immediate bronze to the skin.
Black Walnut: Known for its dark color, it combines with Caramel in a tailored blend to instantly deliver deep hues and build color evenly.
Golden Mineral Glow: Illuminating minerals leave skin glistening with a golden radiance. The technology helps brighten appearance, accent bronzed skin, and diminish the appearance of fine lines.
SKINCARE TECHNOLOGY
Banana Infusion: A nutritious ingredient rich in Magnesium, Potassium, and Sugars to help restore skin's natural vitality and hydration.
Magnesium + Potassium: Known to help stabilize the body's energy  reserves and moisturizing factors, the blend plays a vital role in maintaining skin's integrity to re-balance and soothe.
Sugars: Abundant in natural sugars that work together to help attract water to skin, keeping it hydrated and glowing.
Safflower Oil: Helps promote increased moisturization for longer lasting color.
Vitamin E: An antioxidant that works to neutralize free radicals to help prevent the appearance of fine lines and soften skin.
Vegan Formula: Cruelty free and does not contain animal products or animal derivatives.