---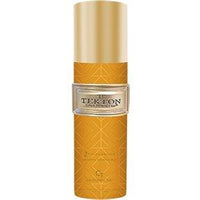 Fragrance: Sensual Citrus
Uncover the secret to building beautiful, bronze color from the inside out. Developed with dynamic skin care and tanning technologies, the Tektōn® Collection will exceed your expectations.
FEATURES
Step 2 – Oxygenates to Boosts Results,
Plateau Breaker
High Cosmetic and Natural Bronzers
Instant Color
Anti-Aging Skincare
Moisturizing
Cruelty Free
ATO Inhibitor
Fragrance: Sensual Citrus – Citrus, Water Lily, Amber
COLOR TECHNOLOGY
Natural Bronzers: A blend of natural bronzers including Caramel and Annatto provide instant, dark color.
BronzeActiv®: An atomic compound containing ultra-refined Black Pepper that helps promote color
development in and out of the tanning bed by stimulating the activity of melanocytes, which are responsible for producing melanin.
CuO2® and TRF™: Each is an advanced tanning technology with copper and oxygen promoting ingredients to energize skin for deeper, darker tanning results which gives amplified color.
SKINCARE TECHNOLOGY
Tektōnic Technology®: Utilizes an ultra-refined alginate that acts as an external marine layer. It helps rejuvenate skin and defend against environmental pollutants to maintain a youthful appearance. Encourages skin to function at optimal levels.
Cocoa Extract: Helps protect against oxidative damage, helps promote healthier looking skin, and has a toning effect to skin.
Vitamin A: Utilizes powerful antioxidants to repair skin damage, diminish fine lines and wrinkles while protecting collagen against free radical damage.
Niacinamide: Helps greatly improve skin moisturization, skin barrier integrity, and is known to help increase collagen production.