---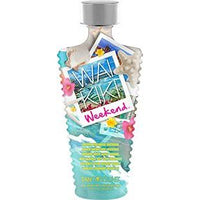 Fragrance:
Summer Escape
Pacific Paradise Natural Beach Bronzing Cocktail
Infused with Juicy Guava, Macadamia Nut and Hibiscus Extracts for Resort Ready
Endless Summer Results!
Take a blissful break to the beach ready bronze your skin deserves! This tropical indoor/outdoor natural bronzing cocktail will provide lush luau color without the use
of self-tanning agents. Infused with juicy Guava extracts, nourishing Macadamia Nut oils and Hawaiian Hibiscus extracts your skin is left soft, smooth and supple with
essential hydration! Let yourself indulge in the perfection of paradise that is Waikiki Weekend!
FEATURES:
Indoor/Outdoor Natural Bronzer
Color Correcting BB Crème Formula
2 Melanin Stimulators
Jackfruit & Guava Extracts
Tropical Hibiscus Extracts
Targeted Anti-Aging & Firming
Electrolyte Rich Coconut Juice
After Tan Odor Eliminators