---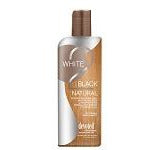 Ultra-hydrating Formula For Indoor & Outdoor Use

"With White 2 Black Natural™ - Experience darkness like never before. Formulated with more accelerators, skin softeners and natural DHA Free bronzers. This one of a kind formula will allow your skin to go 3 shades darker – instantly! Melanin Stimulating and skin softening agents will keep skin at ample hydration levels allowing your tan to last days longer while ALA Technology™ and Acai Berry will fight free radical damage and appearance of fine lines and wrinkles. For fast results and no streaking or staining– the choice is simple – White 2 Black Natural!™"


FEATURES:
Streak-free/Stain-Free natural dark bronzer
Melanin Stimulators for longer lasting results
Acai oils for added hydration
Rich in Anti-oxidants
Skin softeners
Anti-aging and firming
Rain Kissed Leaves Fragrance
BENEFITS:
Dark, natural tanning agents are coupled with multiple melanin stimulators to achieve streak-free/stain-free results.
Mahakanni Extracts – Natural bronzing agent that provides longer-lasting results.
White Birch – Restores firmness and soothes troubled skin.
Acai Oil – Deeply hydrating and skin softening.
For Indoor & Outdoor use.
Formulated with various accelerators to speed up the tanning process for faster, darker results.